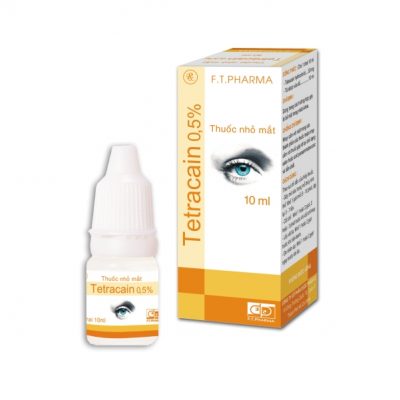 Product Description
COMPOSITION: Tetracaine hydrochloride…………..50 mg
INDICATIONS: Local anesthesia in eyes when measuring intraocular pressure, performing quick procedures in the cornea or conjunctiva, such as removal of defects, cutting or suturing the cornea, conjunctiva, washing the wound.
CONTRAINDICATIONS:
– Hypersensitivity to tetracaine or other ester type anesthetics, para aminobenzoic acid or derivatives or one of the ingredients of the drug.
– In the body, tetracaine is hydrolyzed to p-amino-benzoic acid, so it should not be used in patients being treated with sulfonamides.
– Do not anesthetize the eyes of premature babies due to inadequate metabolic enzyme system.
PRESENTAITION: Box of 1 bottle10 ml.