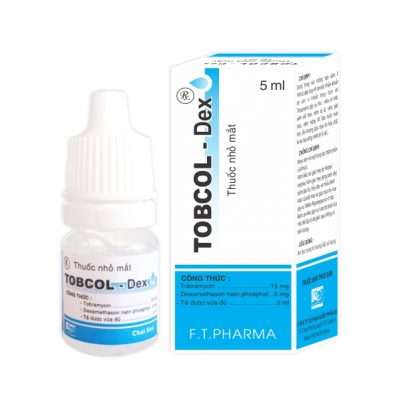 Product Description
COMPOSITION: Each 5ml of eye drops contains
– Tobramycin……………………………………………………………15 mg
– Dexamethasone natri phosphate …………………………….. 5 mg
INDICATIONS: TOBCOL – DEX sterile eye drops are used to treat eye infections, caused by susceptible bacteria and to prevent eye inflammation.
CONTRAINDICATIONS:
– Patient is hypersensitive to any ingredient of the drug.
– People with a history of allergy to aminoglycoside antibiotics, people with hearing loss and kidney disease.
– Corneal epithelial inflammation caused by Herpes simplex (branching keratitis), cowpox, varicella and many other diseases of the conjunctiva and cornea caused by viruses. Mycobacterium infection of the eye. Fungal diseases of parts of the eye.
– Absolutely contraindicated to use this combination drug after removing corneal foreign bodies without complications.
PRESENTATION:
Bottle of 5ml