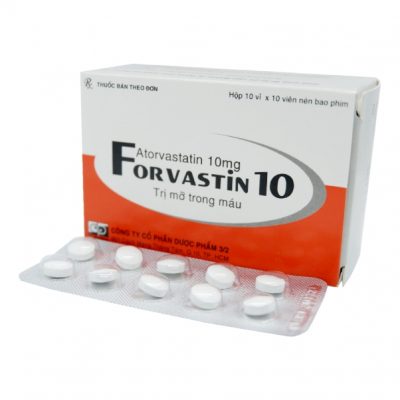 Product Description
COMPOSITION: Each tablet contains:
Atorvastatin……………………..10 mg
INDICATIONS:
Forvastin 10 is indicated to improve the level of total cholesterol, LDL, triglycerides, increase HDL cholesterol, support diet in patients with primary hypercholesterolemia caused by the increase in weight cholesterol lipoprotein. low molecular weight (LDL) in patients at risk for coronary artery disease who have not responded to the diet. Reduces low molecular weight cholesterol (LDL) lipoprotein (LDL) levels in patients with both hypercholesterolemia and hypertriglyceridemia.
CONTRAINDICATIONS:
– Hypersensitivity to HMG inhibitors – CoA reductase or to any ingredient of the drug.
– Active liver disease or unexplained persistent elevation of serum transaminases.
– Pregnancy or lactation period.
PRESENTATION:
Box of 3 blisters x 10 film coated tablets;
Box of 10 blisters x 10 film coated tablets