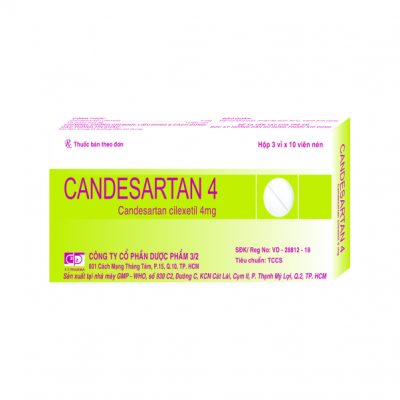 Product Description
COMPOSITION: Each tablet contains:
Candesartan cilexetil ……….. 4 mg
INDICATIONS:
– Treatment of hypertension in adult and children aged 1 to <17 years.
– Treatment of heart failure grade II – IV according to the classification of New York Heart Association (New York Heart Association: NYHA class II – IV) in adults with impaired left ventricular systolic function (ejection fraction ≤ 40%), to reduce cardiovascular mortality and reduce hospitalizations due to heart failure. Candesartan also increases the effect on these effects when used in combination with ACE inhibitors.
CONTRAINDICATIONS:
– Hypersensitivity to candesartan or any ingredient of the drug
– Women in the third and last 3 months of pregnancy.
– Severe hepatic impairment and / or cholestasis
– Children under 1 year old
– Concomitant use of candesartan with drugs containing aliskiren in patients with diabetes or renal failure (GRF <60 ml / min / 1.73m2).
PRESENTATION:
Box of 10 blisters x 10 tablets;
Box of 3 blisters x 10 tablets