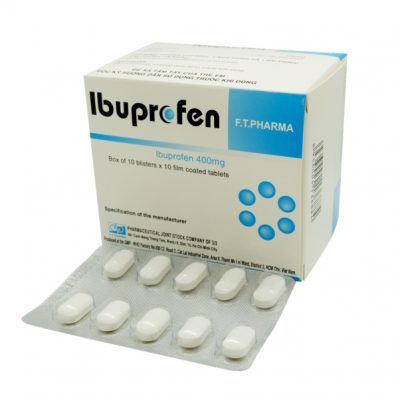 Product Description
COMPOSITION:
Ibuprofen …………………………………………. 400 mg
INDICATIONS:
– Treat mild to moderate pain and inflammation in some diseases such as dysmenorrhoea, headache, dental procedures, episiotomy.
– Ibuprofen can reduce the opiate dose in treatment of postoperative pain or pain due to cancer.
– Rheumatoid arthritis, juvenile rheumatoid arthritis.
– Reduce fever in children.
CONTRAINDICATIONS:
– Hypersensitivity to ibuprofen.
– Peptic ulcer disease progression.
– Hypersensitivity to aspirin or other nonsteroidal anti-inflammatory drugs (asthma, rhinitis, urticaria after aspirin use).
– Patients with asthma or bronchospasm, bleeding disorders, cardiovascular disease, a history of peptic ulcer, liver failure or kidney failure (glomerular filtration flow less than 30 ml / min).
– The patient is being treated with coumarin anticoagulants.
– Patients with congestive heart failure, decreased volume of circulation due to diuretics or kidney failure (increased risk of kidney dysfunction).
– Patients with colloidosis (at risk of aseptic meningitis. It should be noted that all patients with aseptic meningitis have a history of an autoimmune disease).
– Women in the last 3 months of pregnancy.
– Not for children weighing less than 7 kg
PRESENTATION:
Box of 10 blisters x 10 film-coated tablets.