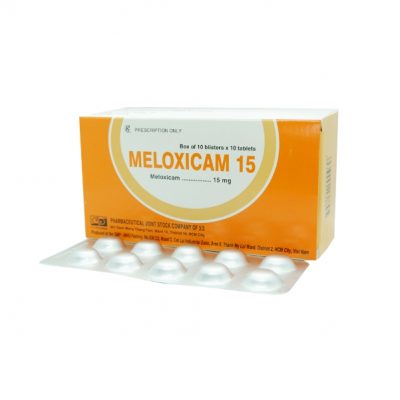 Product Description
COMPOSITION: Each table contains
Meloxicam ……………….. 15mg
INDICATIONS:
Long-term symptomatic treatment of exacerbations of
osteoarthritis, rheumatoid arthritis or ankylosing spondylitis
CONTRAINDICATIONS:
– Hypersensitivity to drugs, people with a history of allergy to aspirin or NSAIDs. Do not use meloxicam for people with symptoms of bronchial asthma, nasal polyps, angioedema or Quincke edema, urticaria after taking aspirin or NSAIDs.
– Peptic ulcer disease progression.
– Stomach bleeding, brain bleeding.
– Severe liver failure and non-dialysis severe renal failure.
– Patients with pain due to coronary artery bypass graft surgery.
– Pregnant and lactating women.
PRESENTATION:
Box of 3 blisters x 10 tablets, box of 10 blisters x 10 tablets